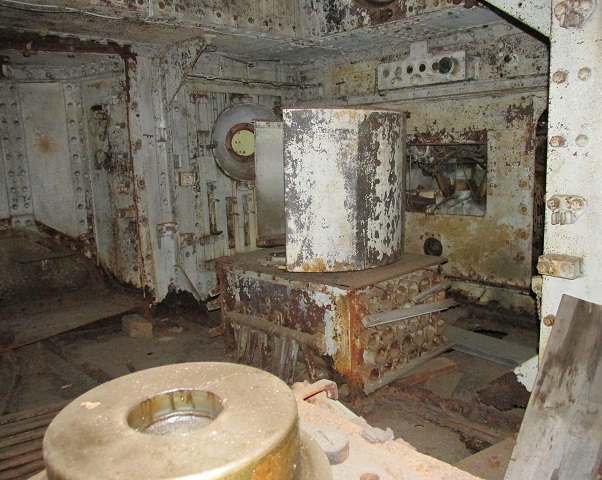 This view is looking toward the right rear of the fighting compartment. A sponson gun shield rests on an ammunition rack, a space normally occupied by racks for machine gun ammunition. The engine compartment bulkhead with its missing vertically-sliding center door can be seen behind this. Two side doors carried by rollers were also integrated into the bulkhead. The right-side sponson juts outward, and behind this can be seen the door with the round machine gun mount. Above the aperture for the sliding door to the engine compartment is the instrument board, which contained the oil gauge, a gauge for each of the three three gasoline tanks as well as the auxiliary gasoline tank, a tachometer, and a yardometer.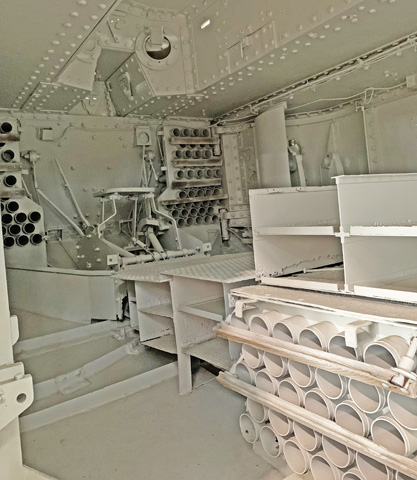 Looking forward to the right front, the driver's position is visible. His seat is flanked by four control levers: two speed control levers to the inside that changed the transmission ratios, the clutch lever to the outer left, and the reverse lever to the outside right. Spark and throttle levers were mounted on the front wall in front of the driver to his left and right, respectively, and a track brake pedal was placed between the speed control levers. Linkages for all his controls can be seen right above the floor, and 6 pounder ammunition racks flanked his position to the front.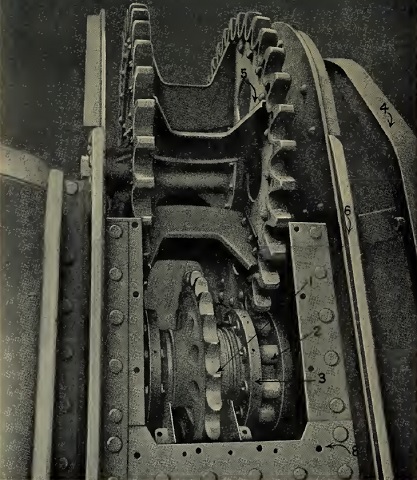 The roller pinion and track drive are isolated in this picture. 1. Chain sprocket and roller pinion. 2. Roller. 4. Guide rail. 5. Road track driving wheel. 6. Upper track rail.
The drive from the epicyclic gear on each side of the tank was transmitted to the track by a chain which was looped around the driving sprocket on the epicyclic cross shaft and the roller pinion which meshed with the road-track driving wheel. The chain sprocket of the roller pinion had 23 teeth. The maximum working load of the driving chains was 53,000lb (24,000kg) and their breaking load was 150,000lb (68,000kg). The outside bars of the chains were .5" (13cm) thick, while the inner bars were .625" (1.59cm) thick. The chain is not present in the illustration for clarity. (Picture from Preliminary Handbook of the Mark VIII Tank.)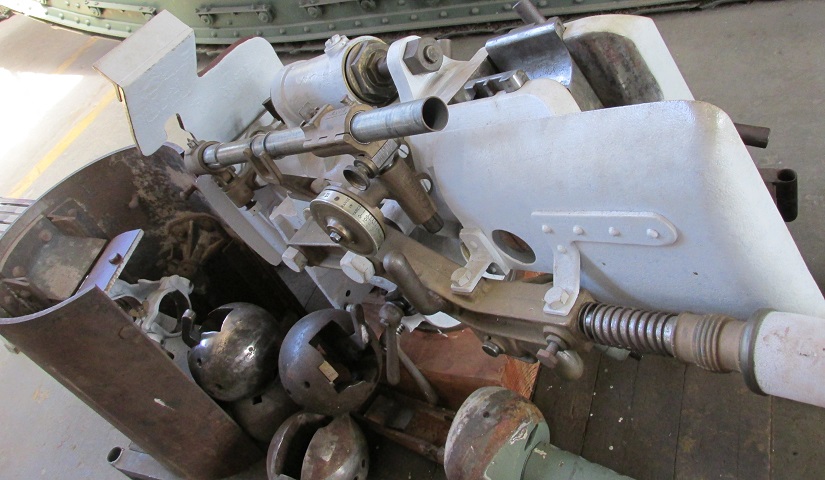 The 6 pounder has been removed from the left-hand sponson and can be seen here. A green machine gun shroud is below the 6 pounder, and round machine gun mounts are piled up to the lower left. The 6 pounder's vertically-sliding breechblock can be seen behind the recoil shield, and the sighting telescope holder, range dial, and trigger grip can be seen on the gold-colored frame on the left side of the mount. Together, the gun and breech weigh 644lb (292kg), and the ordnance is 23 calibers long including the chamber.