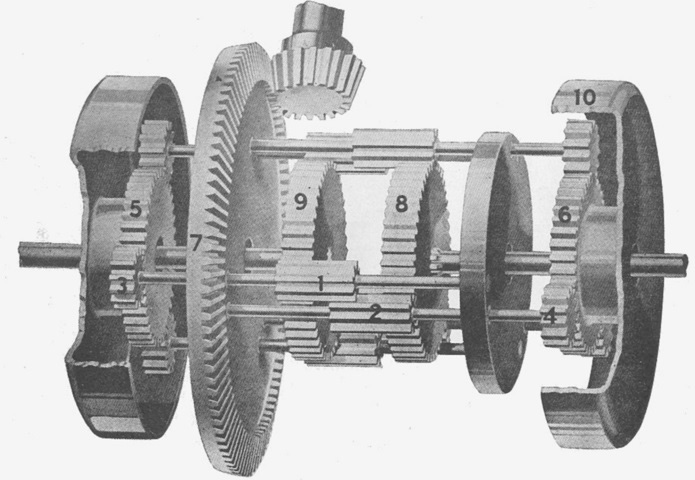 The controlled differential is further illustrated in this picture. When moving straight ahead, the entire assembly driven by the bevel pinion rotated as one. The differential pinions did not rotate in their bearings, and the main drive shaft gears turned at equal speeds. The steering drum gears and brake drums turned as one with the entire differential. When making a right-hand turn, the right steering lever was pulled back, contracting the brake band and stopping the right brake drum (10). The right-hand external (4) and internal (2) pinions with their shafts in their bearings would then rotate with the crown wheel (7). This would cause the left-hand pinions (1, 3) to turn in opposite directions. The right-hand external pinions (4) would then be rotating around the stationary brake drum gear (6) and turning the same direction, which would make the right main drive shaft gear (8) and shaft turn at a slower speed. The left differential pinions (1) would then be rotating in the opposite direction to the crown wheel (7) with the entire assembly turning in the same direction as before so that the left main drive shaft gear (9) and shaft rotate faster than the crown wheel since the right main shaft gear (8) and shaft have been slowed. Hence, when the right hand brake drum was stopped, the right main drive shaft spun at a slower rate while the speed of the left was increased. (Picture from Handbook on M2A4, M3 and M3A1 Light Tanks.)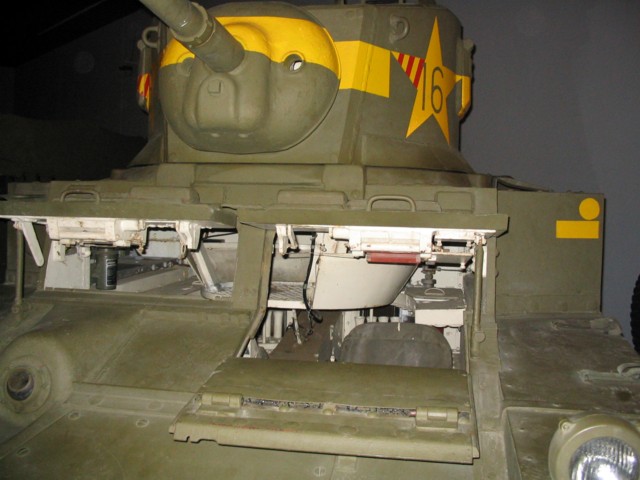 This is a later-production M3A1, as evidenced by the lack of holes for the sponson machine guns, as well as a dearth of rivets on the hull. The driver's and assistant driver's doors are open, and it is evident that the assistant driver would have a very tough time exiting the vehicle under duress, since the bow machine gun takes the place of a second door in the hull. The driver could open a door in the front hull plate as well as the door with his vision devices, but the assistant driver must exit through the turret. The driver's seatback is apparent, as is the turret basket. The propeller shaft can be seen running between the drivers. The turret seats, as well as the traversing mechanics, seem to be missing from this vehicle.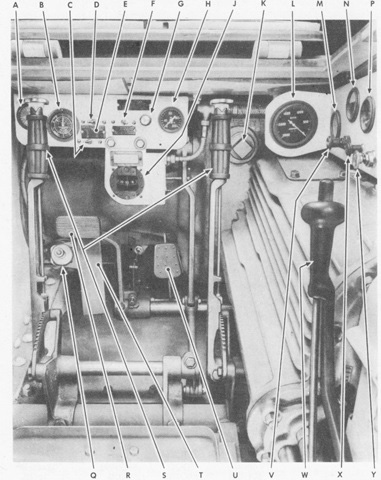 The front of the driver's compartment is shown here. A. Transmission oil pressure gage. B. Engine hour meter. C. Oil dilution switch. D. Starting switch. E. Oil dilution chart. F. Booster switch. G. Hand throttle. H. Engine oil pressure gage. J. Compass. K. Brake adjusting aperture plug. L. Tachometer. M. Engine oil temperature gage. N. Ammeter. P. Voltmeter. Q. Siren button. R. Clutch pedal. S. Steering levers. T. Footrest. U. Foot throttle. V. Light switch. W. Gearshift lever. X. Headlight dimmer switch. Y. Priming pump.
The oil dilution switch operated a valve below the engine compartment door sill that allowed gasoline from the fuel pump to mix with the engine oil inlet pipe connection at the bottom of the oil tank. This eased starting in colder temperatures. The booster switch activated a booster coil wired through the right magneto that provided a "hot" ignition spark when the engine was started. However this only applied if scintilla magnetos were installed; if Bosch magnetos were present the booster coil was not connected. (Picture from TM 9-727 Light Tanks M3A1 and M3A3.)